When it comes to buying a sports car, the Italian built Alfa Romeo 4C is the ideal choice owing to its phenomenal powertrain, high-end interior amenities, and a sexy exterior design. The Alfa Romeo 4C has won several awards till now including "Car of the Year" by FHM magazine, "Most Beautiful Car of the Year" by International Automobile Festival and also Performance Car of the Year 2015" by inaugural Association of Professional Motoring Press (APMP).

Customers usually get confused when buying the 4C as it comes in two versions: The Alfa Romeo 4C Coupe and the Alfa Romeo 4C Spider. In this article, we will discuss both versions in detail to help you make the right choice.
Different Roof Design
If you enjoy fresh air and the scenery around you while driving, then the Alfa Romeo 4C Spider should be your pick. It features a premium black colored soft top which can be easily removed and stored in the trunk. For better aerodynamics, you can opt for the 4C Coupe which extends a hardtop design. Moreover, you can also choose the carbon-fiber roof option when buying the Coupe version for better performance and enhanced design.
Same Powertrain
Both the Alfa Romeo 4C Coupe and 4C Spider are powered by the same engine which is the 1.7-liter all-aluminum direct injection turbocharged unit capable of developing 237 horsepower and 258 lb.-ft of torque. This powertrain allows the 4C Coupe and Spider to sprint from 0 to 60 mph in just 4.1 seconds with a top speed of 258 mph. Moreover, the versions boast a 4-mode Alfa DNA Pro Drive Mode selector as well as the 6-speed automatic twin-clutch transmission system.
Cloth Bucket and Leather Sports Seats
While the Alfa Romeo 4C Spider and the 4C Coupe feature an identical interior, they are available with two different seating options. The 4C Spider renders sport bucket seats to give you a feel of driving a true sports car while the 4C Coupe features lightweight cloth bucket seats to keep the overall weight of the interior low for maximum aerodynamic efficiency.
Similar Interior Features
On the inside, both the 4C Coupe and 4C Spider offer some excellent standard features such as the Alpine audio system with USB support, Bluetooth connectivity, satellite radio and 7-inch HD infotainment display. The standard driver assistance features include a rear-view camera, rear parking sensors, cruise control and more. Buyers can also opt for the premium Alpine surround system with subwoofers.
Distinct Dashboard Material
The Alfa Romeo Spider (and a few coupe trims) incorporates a leather-covered front dash and the door panels with matching seats. While the 4C Coupe offers a thermoformed dashboard with basic door panels. Nevertheless, the interior of both the versions gives the feeling of driving a luxury vehicle.
Alfa Rome 4c Price in Canada
The Alfa Romeo 4C Coupe price tag is only $66,845 and is an excellent car for day to day commuting while occasionally satisfying your speed enthusiast requirements. As for the Alfa Romeo 4C Spider price, it is priced from $78,845 and is slightly expensive than the Coupe version but it does offer better interior options including sport bucket seats, soft top roof, and a premium leather-wrapped front dash. You can find the Alfa Romeo Spider for sale along with other variants available at any Alfa Romeo Canada dealer.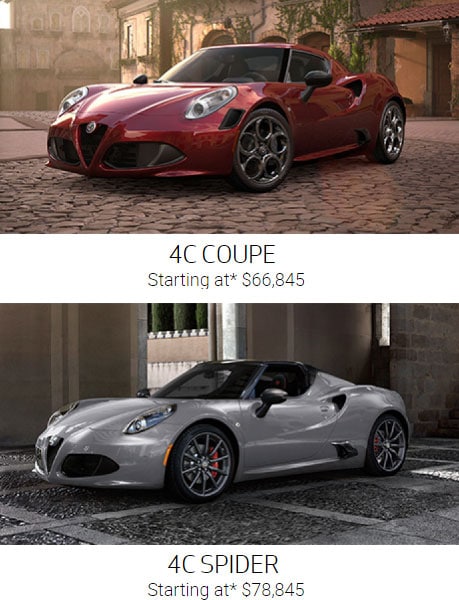 Conclusion
Both the Alfa Romeo 4C Coupe and 4C Spider are perfect in their own persona. For those who prefer luxury and do not want to compromise on the aerodynamics, then the 4C Spider is an excellent choice for them. However, if you are looking for an exceptional sports car with a lower price tag, then the 4C Coupe should be your pick.

Looking for Alfa Romeo Ontario Dealers? Let Alfa Romeo of Windsor help you get behind the driver's seat of a new Alfa Romeo 4c for sale. We can ship anywhere across Ontario!