Alfa Romeo of Windsor have the distinct honor of serving as one of the official Alfa Romeo Canada Dealerships. If you're looking at an Alfa Romeo Giulia for your next luxury or sports sedan purchase, it is clear that you are already clued up when it comes to cars; this model is simply breathtaking, from the base model right through to the astonishing Quadrifoglio variant. The beautiful lines and incredible power set this model miles apart from the traditional German and American competition, and to provide you with even more information about the Alfa Romeo Giulia Canada, Alfa Romeo of Windsor have put together this list of interesting, and in some cases, little known facts.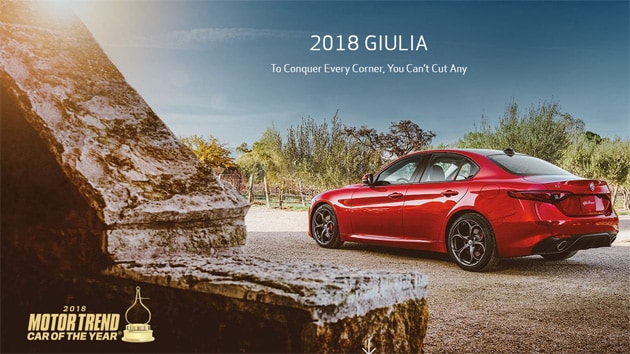 It was supposed to be based on a shared platform, then Alfa changed their minds
During the concept phase, the Alfa Romeo Giulia was originally destined to be based upon the same platform as the Dodge Dart and Chrysler 200, but in the end it was decided that in order to make a class leading sports sedan, it had to be designed fresh from the ground up. With that in mind, Alfa Romeo turned over the project to 'The Skunks', a top design team who assisted them in creating an all new, rear wheel drive chassis, perfect for what was to be one of the top performing vehicles in its class. As you might expect from a team whose name was inspired by the super top secret Skunk Werks division of Lockheed Martin, they were given a lot of freedom to design the ultimate platform.
It's got class exclusive drivetrain technology



All Giulia models, including the base and TI, right through to the Quadrifoglio make use of a super lightweight, carbon fiber driveshaft. Light components equal better power to weight ratios, and in the case of the Giulia, they add to the perfect 50:50 weight distribution, one of the prime factors in its exquisite handling abilities. Additionally, the lower weight means less inertia, which dramatically reduces stopping distances vs. the heavier aluminum shafts as used in competitors vehicles in this segment. Not only is carbon fiber desirable for weight saving, it has higher speed tolerance, which allowed Alfa Romeo's engineers to truly push the envelope when it came to designing the Giulia's powertrain.
It's fast. Very fast.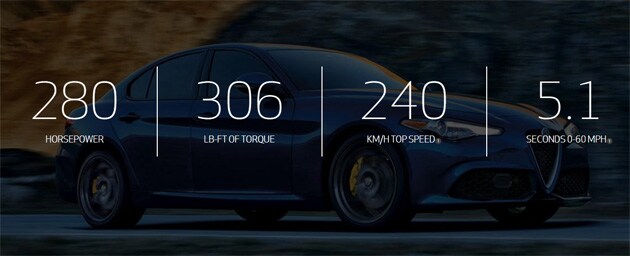 If you have the need for speed, and you're looking for a luxury family sedan, the Giulia is probably the perfect car for you. The as standard turbocharged 2.0 liter, 4 cylinder will get you from a standstill to sixty miles per hour in just 5.1 seconds, thanks to the 280 horsepower and 306 pound foot of torque sitting under your right foot. Are you not entertained?! Then perhaps the Giulia Quadrifoglio would be more appealing, with a breathtaking 505 horsepower, and 443 pound foot of torque from its Ferrari derived 2.9 liter, twin turbocharged V6. This power has produced official Nurburgring lap times faster than both the Lamborghini Murcielago LP640, and the Porsche 911 GT3 RS, all from a family sedan. Simply astonishing.
Performance aside, it's luxurious and comfortable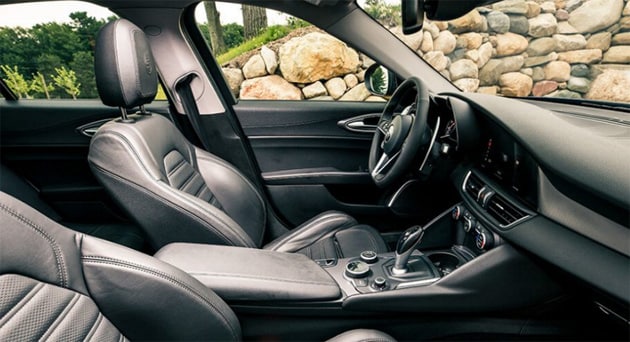 The Giulia, in all variants, provides a luxurious haven for anyone lucky enough to step inside. Premium materials used include top grain leather, Alcantara, and carbon fiber. The seats are heavily bolstered for a secure ride, which is especially helpful during spirited cornering. The Quadrifoglio features single piece carbon fiber bucket seats, wrapped in luxurious leather with comfortable Alcantara inserts, with even more substantial bolsters, just to make sure you know you're in a serious performance vehicle before you even start the engine! What is a luxury car in 2018 without some electronic toys? The Giulia features a stunning 8.8 inch widescreen display that is not only highly functional, but is so designed to seamlessly blend into the dashboard for incredible aesthetics.
It has some impressive safety statistics and features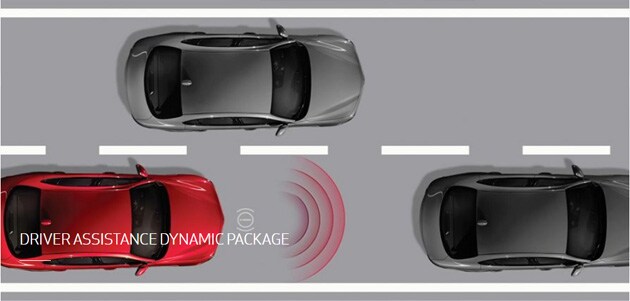 The Giulia was crash tested in 2016, prior to its launch, by Euro NCAP (the European vehicle safety gold standard), during this test it scored an unprecedented 98% for adult occupant safety, which was, at the time, the highest score ever recorded. In addition to the amazing crash safety, the Giulia has features to assist drivers in avoiding impact in the first place, including the available Driver Assistance Dynamic Package; featuring lane departure warning, forward collision warning, auto high beam headlights, as well as adaptive cruise control as well as an infrared windshield. Whilst stopping ability is critical for peak performance, it is also paramount when it comes to safety, the ability to stop in shorter distances reduces the likelihood of collision, and with the Giulia Quadrifoglio, you'll find some of the best stoppers on the market in the form of Brembo brakes both front and rear, with available carbon ceramic brakes for even greater stopping power.
It easily adapts to its surroundings



The Giulia comes as standard with the Alfa Romeo DNA system; a software setup that allows the driver to select the appropriate setting for the current driving conditions. The base and TI models come with 3 modes:
Dynamic Mode – The go to setting for aggressive driving, this mode reduces traction control intervention and sharpens up throttle and brake response.
Natural Mode – Natural is the daily driving standard, this setting optimizes fuel economy and comfort.
All Weather Mode – All weather mode provides maximum assistance from electronic driver aids and traction control.
The Giulia Quadrifoglio features a fourth mode – RACE. Race mode turns down traction control intervention to the bare minimum, whilst turning up throttle, brake and handling response up to eleven!
It's quintessentially Alfa Romeo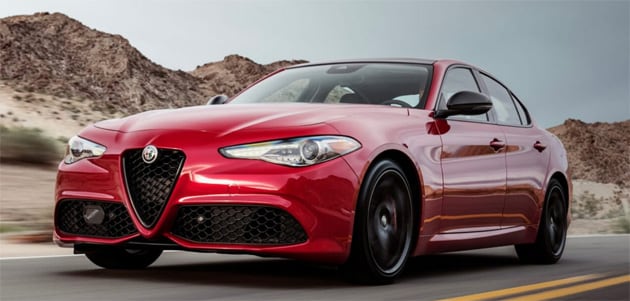 The Giulia's styling truly evokes memories of the beautiful Alfa Romeos of old. The lines are a juxtaposition of seductive and aggressive, and they just work. The available, signature 5 hole Alfa Romeo wheels match perfectly, and the triangular front grille ensures that anyone seeing you in their rear view mirror knows there's an Alfa on their tail! Moving to the Quadrifoglio, the four leaf clover motif adorns the shoulders, a subtle nod to the rich motorsports pedigree of Alfa Romeo. Not only is the styling truly Alfa, so is the performance; who else would reintroduce an entire brand to a market they'd been absent from for 30 years, with such a brutally fast car, immediately looking to dominate the establishment? Alfa Romeo, that's who.
The Alfa Romeo Giulia is impressive on paper, but really has to be seen to be truly appreciated, and not only seen, but test driven, and Alfa Romeo of Windsor are here to help you with that. Our friendly and knowledgeable team will ensure all of your questions are answered, and that your car buying experience is as enjoyable as driving the car itself. If your looking for an Alfa Romeo Giulia Price Canada our dealership proudly ships anywhere in Canada, so if you're serious about a new Giulia make sure you give Alfa Romeo of Windsor a call today, or if you can, come by our showroom to see this amazing Italian sport sedan in person.