If you're looking for a truly head turning car, then look no further than the Alfa Romeo 4C and 4C Spider. Alfa Romeo Windsor are one of only 12 dealers across Canada who are able to bring to you these incredible cars. In case you're not too familiar with these amazing sports cars, Alfa Romeo Windsor have put together this list of fun facts about the 4C Coupe and 4C Spider to bring you up to speed: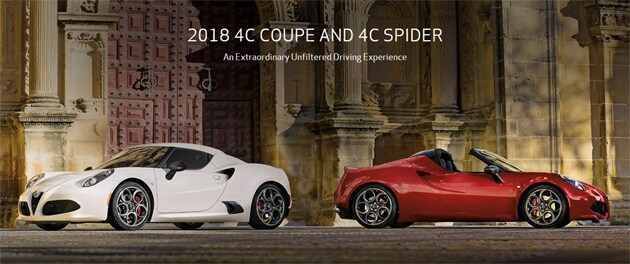 They use Formula One chassis technology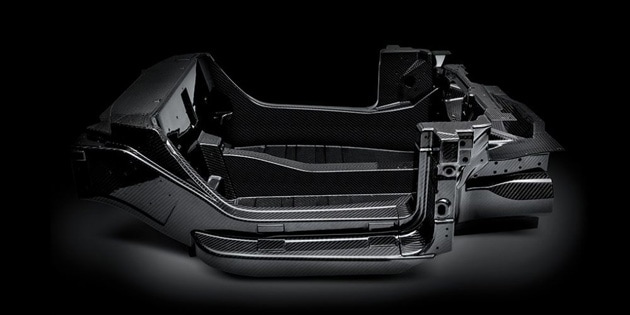 The carbon fiber monocoque chassis, which is often referred to as a 'tub' forms the cabin as well as the chassis, allowing for huge weight savings. It is made from a single piece of carbon fiber, which is significantly lighter than aluminum, yet stronger than steel; seriously advanced stuff! Weighing in at just 65 kg, this design has a big positive impact on the power to weight ratio. This kind of technology is seldom found on road going cars, putting the 4C and 4C Spider in some rather exclusive company, with cars costing several times more than the Alfas!
They're really, really lightweight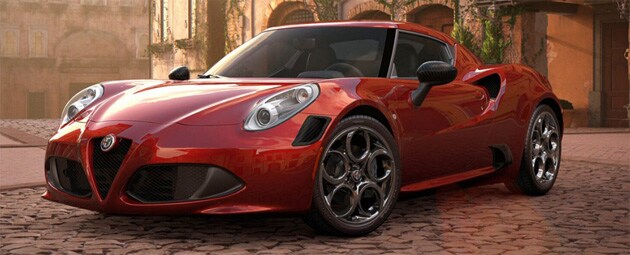 As previously mentioned, the Alfa Romeo 4C and 4C Spider are built around a carbon fiber monocoque tub, to complete the cars, aluminum sub frames are bolted on to the front and rear. Weight savings continue further with the body panels themselves; the skin of the 4C and 4C Spider is made of a material known as 'SMC' or Sheet Molding Compound, this is a special type of fiber glass, which, weighs less than steel panels, or even aluminum; all of which adds up to weight savings of as much as 20% compared to traditional construction. The entire, finished vehicle only weighs 940 kg, helped not only by the chassis and frame, but other clever engineering such as the partial aluminum front brake discs, which trim an additional 2 kg from the unsprung weight!
They're rather quick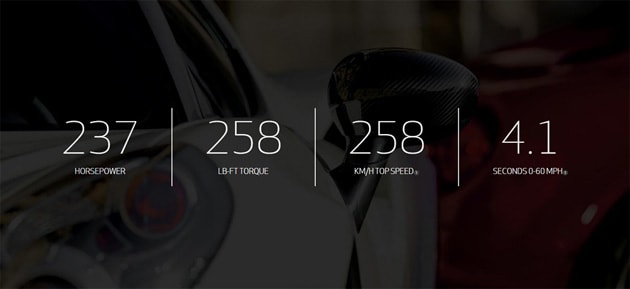 The Alfa Romeo 4C and 4C Spider are powered by a 1.7 liter, 4 cylinder, turbocharged engine. Whilst this in itself may not sound too exciting, you'll surely think otherwise when you realize that it has been tuned to churn out an astonishing 237 horsepower. This power, combined with the extreme light weight makes for a thrilling ride; for example a 0 to 60 miles per hour dash will take just 4.1 seconds, and should you keep that right foot planted to the floor, you'll keep going all the way up to 160 miles per hour!
They're assembled in a famous factory



As if the 4C and 4C Spider weren't cool enough already… The team responsible for production of these sports cars are none other than the master craftsmen at the Maserati plant, deep in the heart of Modena, Italy. The men and women at this factory undergo no less than 500 hours of training time before being let loose on the tools, so you can rest assured that the fit and finish is superb. Good things come to those who wait, apparently, as every Alfa Romeo 4C and 4C Spider is painstakingly built by hand, over the course of no less than 6 weeks.
They sound amazing



Any true car fan knows that the way a car sounds is just as important as the way it looks or even how it drives. The Alfa Romeo 4C and 4C Spider certainly check this box, especially when fitted with the available Akrapovi? exhaust. Not only does this option provide a more aggressive look with its dual exit, center mounted, carbon fiber surrounded pipes, this awesome dual mode exhaust also provides quite the soundtrack, which can be augmented at the touch of a button, opening up valves to increase the volume; or you're welcome to keep them closed for a more civilized drive, but who are you kidding? You and I both know you'll keep it loud!
They're perfect for the road and the track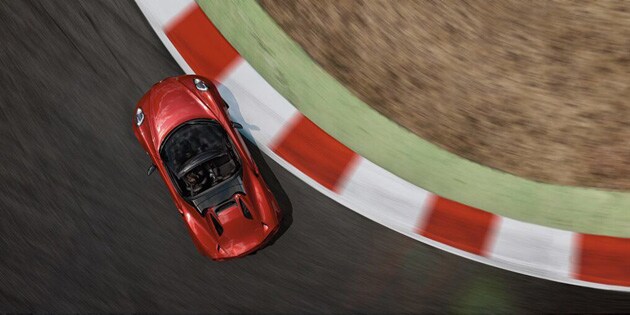 If you're someone who would love a track day beast, but doesn't want to have to take it anywhere on a trailer, look no further than the Alfa Romeo 4C and 4 C Spider. Unlike other super lightweight sports cars, these plucky Alfa Romeos offer a high quality fit and finish, using the finest materials; it can be ordered with tobacco and black sport seats, complete with matching tobacco stitching. Other packages include a track pack, which certainly livens up a track day, with upgraded shock absorbers and front/rear sway bars, as well as available custom P-Zero tires from the legendary Pirelli.
They don't have power steering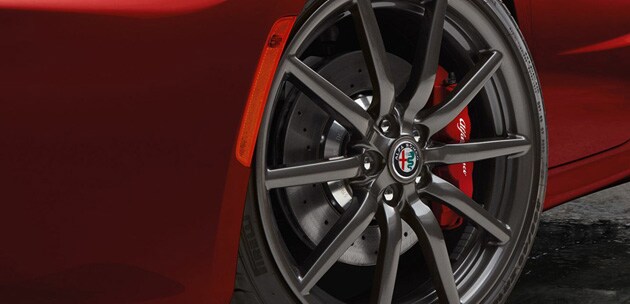 But in some cases, like this one, that's a good thing! Power steering can often remove the sensation of true control from the driver's hands; by engineering the 4C and 4C Spider in such a way that it simply isn't necessary, they retain precise, authentic handling characteristics. Not only is handling and feel improved, by not including a power steering unit, the Alfa Romeo 4C and 4C Spider models shed even more weight. Both the reduced weight and amazing handling go to prove that sometimes the simplest engineering can yield the strongest results.
They marked the beginning of Alfa Romeo's return to the North American market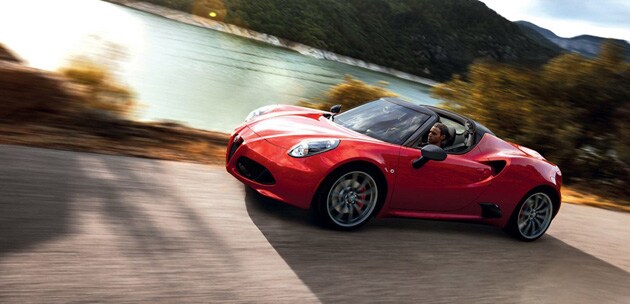 Before the introduction of the 4C and 4C Spider, there was a noticeable absence from Alfa Romeo in the North American market, about 30 years to be precise. In 2013, the 4C concept was finally put in to production, and went on sale in Canada and the US; followed shortly after by the 4C Spider in 2014. The launch was met with much fanfare and paved the way for the other models on sale in North America today; the Stelvio and Giulia.
They are incredibly intelligent

Alfa Romeo have equipped the 4C and 4C Spider with the DNA system as standard, a drive mode selector that allows the driver to select from one of four modes:
· Dynamic Mode for more direct throttle and brake response, and reduced traction control intervention.
· Natural Mode for day to day driving, making stop-start traffic more manageable as well as improving fuel economy.
· All Weather Mode for driving in poor weather conditions, this setting allows maximum traction control intervention for optimum grip.
· Race Mode is exclusive to the 4C Coupe and Spider, as well as Quadrifoglio variants of other models, this setting brings with it the fastest response possible from the 4C, in addition to turning down traction control and driver aids to bare minimum or even zero.
Alfa Romeo of Windsor are truly excited to be an authorized dealer of the Alfa Romeo 4C for sale Ontario and 4C Spider. Our highly knowledgeable team would love the opportunity to show you these magnificent cars in person. Even if you aren't located in Windsor, or even Ontario, Alfa Romeo Windsor are here to help; we proudly ship anywhere in Canada, as we really do believe that cars like this should be available to everyone. So whether you'd like to call and chat about the Alfa Romeo 4C Canada Coupe or Spider, or even call ahead to set up a test drive, we'd love to speak with you, and of course, walk ins are always welcome. We can't wait to meet you!