Talking about luxury sports sedans, the Italian built Alfa Romeo Giulia definitely tops the list with an exclusive selection of remarkable sport sedans all providing a truly exhilarating driving experience, owing to its exquisite exterior design, advanced interior amenities and of course, a phenomenal powertrain and performance. The 2018 Giulia was awarded as the MotorTrend Car of the Year, while the previous model was awarded the second position in the 2017 European Car of the Year competition.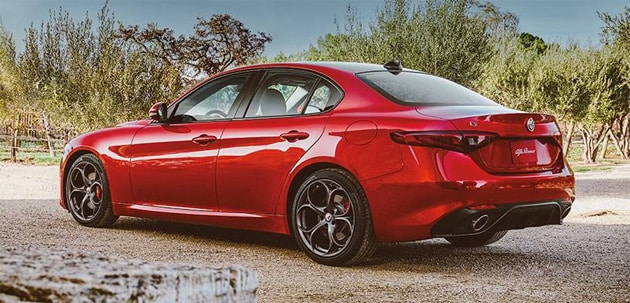 You can now find the 2018 Alfa Romeo Giulia for sale in Canada with a starting price of $47,845. It is available in three trim levels namely, Giulia (base model), Alfa Romeo Giulia Ti (mid-level) and the range-topping Alfa Romeo Quadrifoglio. However, there are various sub-variants as well, like Ti Lusso, Ti Sport, Sport and more. Let's discuss in detail about all the three models.
Alfa Romeo Giulia


The base model Giulia incorporates a turbocharged in-line 2.0-liter four-cylinder unit that develops 280 horsepower and 306 lb.-ft of torque. Power is delivered to the rear wheels via an eight-speed automatic transmission system. The standard features include HID lights along with daytime running lights, LED taillights, Brembo brakes, and sleek 17-inch wheels. On the inside, the base model Giulia extends leather seats, a leather-wrapped steering wheel, automatic dual-zone climate control, 7.0-inch driver instrument cluster and a 6.5-inch infotainment display stacked on the front dash. The Alfa Romeo Giulia Canada price starts from $47,845, but you can opt for additional features such as 3D navigation, heated seats, and a premium Harman Kardon at an extra cost.
Alfa Romeo Giulia Ti

The mid-range Alfa Romeo Giulia Ti carries the same 2.0-liter four-cylinder engine as the regular model but it offers additional interior and exterior features. The rear-wheel drive is standard in the Gulia Ti but Canadians will surely opt for the all-wheel-drive variant due to its superior performance on snowy roads as well. Standard interior amenities include an 8.8-inch infotainment display, heated/powered front seats, satellite radio and front parking sensors. You can opt for the Ti Lusso package that costs extra $3,250 and offers all-season performance tires, exclusive light walnut wood or dark grey interior trim, 12-way powered seat and more. The Giulia Ti starts from $49,845.
Alfa Romeo Giulia Quadrifoglio

The Alfa Romeo Giulia Quadrifoglio Canada comes packed with a robust twin-turbo 2.9-liter V6 engine that generates 505 horsepower and 403 lb.-ft of torque. This powertrain is capable of propelling the Italian sports sedan from 0 to 100 km/h in just four seconds, thanks to the eight-speed automatic transmission as well as remarkable aerodynamic updates such as an active aero front splitter system, front carbon fiber spoiler, carbon fiber hood, carbon fiber roof and rear spoiler. To further intensify the sports car feel, the Quadrifoglio renders carbon fiber sport bucket seats, Alfa DNA Pro drive mode selector, Brembo brakes, 19-inch wheels and a performance-oriented exhaust system. The exclusive Quadrifoglio system ensures that the sports saloon delivers an excellent drive on all sorts of terrains. The Alfa Romeo Guilia Quadrifolgio Canada price starts from $89,845.
Safety Features
Besides latest interior technologies, the 2018 Giulia also boasts state-of-the-art safety features such as a forward collision warning system, rear-view camera, automatic high beams, adaptive cruise control, lane departure alert, blind-sport alert and rear-cross traffic alert. Moreover, the Giulia has been awarded the Top Safety Pick+ award from the Insurance Institute for Highway Safety (IIHS) as it achieved the highest possible rating in all five crash tests.
Competitors
The Alfa Romeo Giulia key competitors in the market are the BMW 3 Series, Mercedes-Benz C-Class, Cadillac ATS and the Jaguar XE.
Final Words
The Alfa Romeo Giulia is an excellent choice when it comes to buying sports sedans. Its powerful engine, high-end interior amenities, modern safety features and a stylish design makes it an ideal luxury car to own in Canada. Visit the nearest Alfa Romeo Canada dealer and take a test drive to know about the Giulia's driving dynamics.

View More Alfa Romeo Guilia Images here