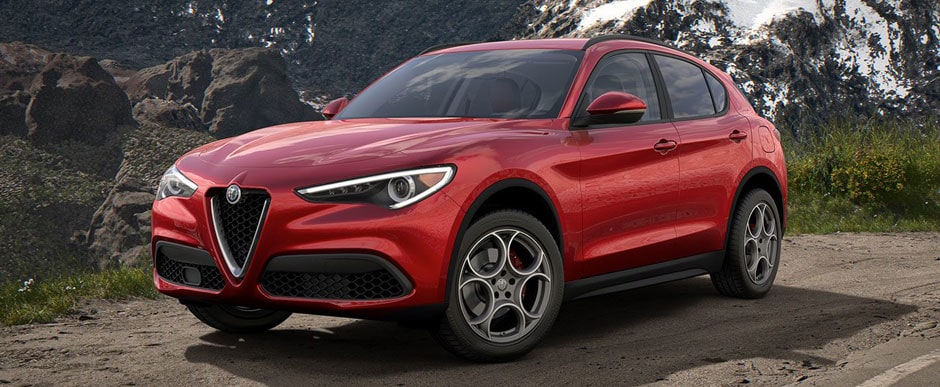 Alfa Romeo Canada are very proud to present the brand new Alfa Romeo Stelvio. Alfa Romeo of Windsor represent one of just twelve Alfa Romeo Canada Dealers, we are able to bring to you one of the most exclusive Alfa Romeo Canada SUV on the market today - The Alfa Rome Stelvio! No matter where you call home, we can deliver your brand new Alfa Romeo Stelvio to you, we have experience shipping vehicles all across Canada; we have already sent vehicles to locations as far away as Oakville, Toronto, Quebec, London, and Calgary.
The Alfa Romeo Stelvio is unlike any other SUV out there; bringing new life, new excitement to the segment, the Stelvio is practical, whilst retaining the style and sportiness only found in Italian cars. The Stelvio is making waves in its segment, turning heads and standing out as a true high performance SUV amongst a group of established competitors from BMW, Audi, Mercedes Benz, Cadillac and even Porsche!
The Alfa Romeo Stelvio is amongst the finest luxury cars Canada has on sale today. With its introduction comes a real alternative to the usual choices. To bring you up to speed with this incredible new SUV, Alfa Romeo Ontario Dealers have put together this guide, packed with information about the three variants of Stelvio on sale.
The Alfa Romeo Stelvio is available as:
Alfa Romeo Stelvio   
Alfa Romeo Stelvio Ti
Alfa Romeo Stelvio Quadrifoglio
Alfa Romeo Stelvio
The Alfa Romeo Stelvio comes in two trims; the Stelvio and the Stelvio Sport. No matter which you choose, you'll be driving away in one of the best designed SUVs on the market, beautifully designed with the soul and performance of a sports car. When setting out to design the Stelvio, Alfa Romeo didn't just any old design team, they put together a team of Italy's finest engineers and artisans to produce something truly special. Alfa Romeo's rich motorsports pedigree is evident in the Stelvio, perfectly blending performance with practicality for an unforgettable driving experience.
Featuring an advanced all wheel drive system, the Alfa Romeo Stelvio provides a confident, precise drive. The Q4 system brings incredible traction, no matter the conditions. The smart drivetrain continuously monitors the road conditions, this enables the system to provide optimum torque distribution for any given situation. Thanks to the Q4 all wheel drive technology, the Stelvio has the driving feel of a performance sports sedan.
Stelvio

 
SUV's like the Alfa Romeo Stelvio
don't just happen, world class engineering and passionate design have to be masterfully blended. The element of practicality that comes with ownership of an SUV is a big feature of the Stelvio, the flexible rear seating allows cavernous space when necessary, and thanks to the 40/20/40 split folding rear seat, you'll be able to pack everything you need for your next adventure and bring along a back seat passenger for the ride! Not only is the storage space ample, the cabin is also incredibly spacious; ask any SUV shopper what they're looking for in their next vehicle, you're almost guaranteed to hear space and comfort, and the Stelvio has both with more to spare!
The Stelvio comes as standard with 18 inch bright 5 spoke aluminum wheels, bi xenon headlamps with adaptive forward lighting, LED daytime running lamps and LED tail lamps. The rear back up camera provides a greater view of the world around you, complete with dynamic gridlines to highlight your projected path as you reverse, and the rear park sensors will alert you should you get too close to anything whilst parking.
The interior, whilst comfortable for all passengers, has been designed with the driver in mind. The driver centric cockpit is spacious as well as ergonomic, for an all encompassing experience. Not only is the cabin well thought out, it is refined and luxurious; Nappa leather upholstery, and a leather wrapped steering wheel bring an unmistakable sense of Italian style.
Stelvio Sport
The Stelvio Sport is the trim for you if you're seeking a more aggressive appearance and more performance oriented vehicle. Opting for this package brings several upgrades including 19 inch signature 5 hole aluminum wheels. The Sport package brings with it sporty aesthetic upgrades, without compromising the inherent comfort of the Stelvio. In addition, the Sport trim adds red brake calipers with white accent text, a classic sports look.
The interior of the Stelvio Sport also benefits from upgrades with this trim; the leather wrapped sport steering wheel with black push button start gives a subtle nod to the racing heritage of Alfa Romeo, and the steering column mounted, aluminum paddle shift levers enable superb control over gear shifts. Aluminum trim features such as the sport pedals and footrest provide a racy look to keep reminding you that you're in a high performance SUV.
Without a doubt, the beating heart of the Alfa Romeo Stelvio models is the all aluminum 2.0 liter turbocharged, inline 4 cylinder engine. Putting the performance in performance SUV, this engine produces a best in class 280 horsepower and 306 lb-ft of torque. With a zero to sixty time of just 5.4 seconds, and a top speed of 144 miles per hour, the Stelvio packs a real punch.
Interior technology is complemented by Apple CarPlay and Android Auto connectivity for seamless integration with most of today's smartphones. This media technology provides the Alfa Romeo Stelvio with a big safety boost, ensuring you can take all of your calls, listen to your music and receive useful information without taking your eyes off the road for a second.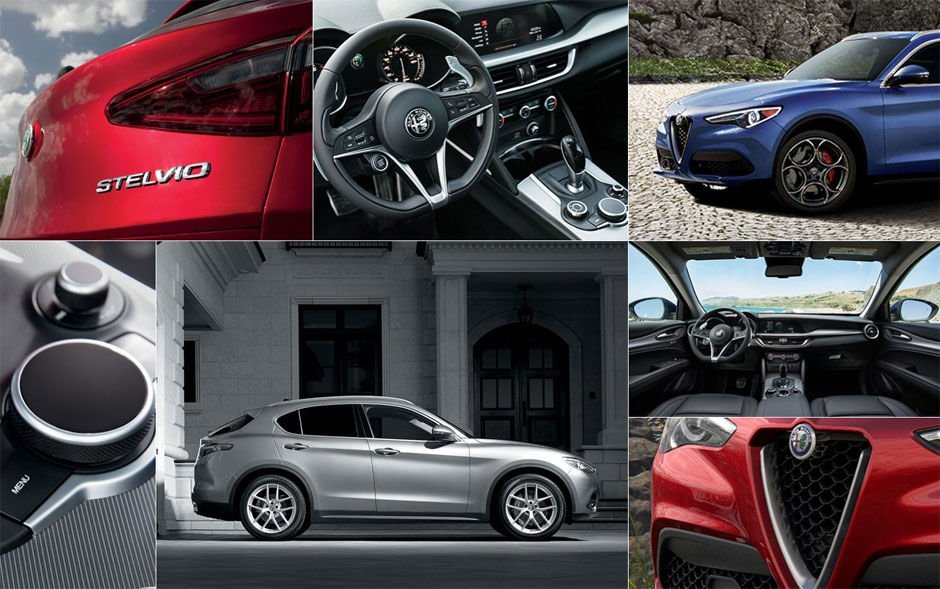 The Alfa Romeo Stelvio Price Canada starts at $52,545, or $55,045 for the Stelvio Sport.
---


Alfa Romeo Stelvio Ti

 
The Alfa Romeo Stelvio Ti is heavily inspired by one of the world's most challenging and exciting roads: the Stelvio Pass. With its muscular , yet flowing lines, the Ti really is a special car to look at.
The Alfa Romeo Stelvio Ti is not only stunning to look at, it has the performance to match. Complementing the powerful engine, the suspension system brings incredible handling, making this SUV feel more like a nimble sedan. The suspension is a double wishbone setup, this helps to keep the wheels perpendicular to the road for almost endless grip in just about any corner. Not only is the suspension setup a performance booster, the vertical rod Alfa Link rear suspension helps to increase ride comfort too, proving that there needn't be compromise between handling and ride quality in a performance SUV.
Another factor in a cars handling is balance. The Alfa Romeo Stelvio Ti achieves almost perfect weight distribution over the front and rear axles by utilizing technologically advanced materials in the right way. By making use of lightweight components made from carbon fiber and aluminum, the Stelvio Ti maintains strength whilst saving weight.
Stelvio Ti
The Alfa Romeo Stelvio Ti features beautiful lines, and is a genuine luxury SUV. With 19 inch, 10 spoke bright aluminum wheels.
The Stelvio Ti features an impressive array of standard equipment; with front and rear parking assist, 8.8 inch full color widescreen display, Bluetooth streaming audio, 3D Navigation GPS, and Sirius XM satellite radio (including a 1 year subscription). The Alfa Romeo Stelvio Ti is fitted as standard with an intelligent electromechanical braking system that improves braking performance and decreases braking distances, while at the same time optimizing brake pedal pressure for superb feel and control.



Comfort is a major factor in the Alfa Romeo Stelvio Ti, with standard three setting, heated leather seats, you'll stay warm no matter the weather. Ensuring your hands stay just as warm, the heated leather wrapped steering wheel is also a standard feature on the Stelvio Ti.
For those who insist on only the best quality audio, the Alfa Romeo Stelvio Ti available Harman Kardon premium sound system provides a crystal clear sound track to every drive, a real delight for all music fans.
Stelvio Ti Sport
The Alfa Romeo Stelvio Ti Sport brings with several performance related upgrades, paying homage to Alfa Romeo's motorsports heritage. The wheels are upgraded to 20 inch aluminum sport wheels, gloss black window surrounds, and a choice of red, black or yellow brake calipers. On the interior, the Stelvio Ti Sport gets 12 way power front seats, with 4 way power lumbar supports, power bolsters and manual thigh support, helping to keep the driver and front passenger secure during spirited driving sessions! The Sport package also includes a leather wrapped sport steering wheel with black push button start, steering column mounted paddle shifters, aluminum interior trim as well as aluminum sport pedals and foot rest. For even stronger performance, the Alfa Romeo Stelvio Ti Sport features sport tuned suspension, allowing for tighter cornering and more responsive steering.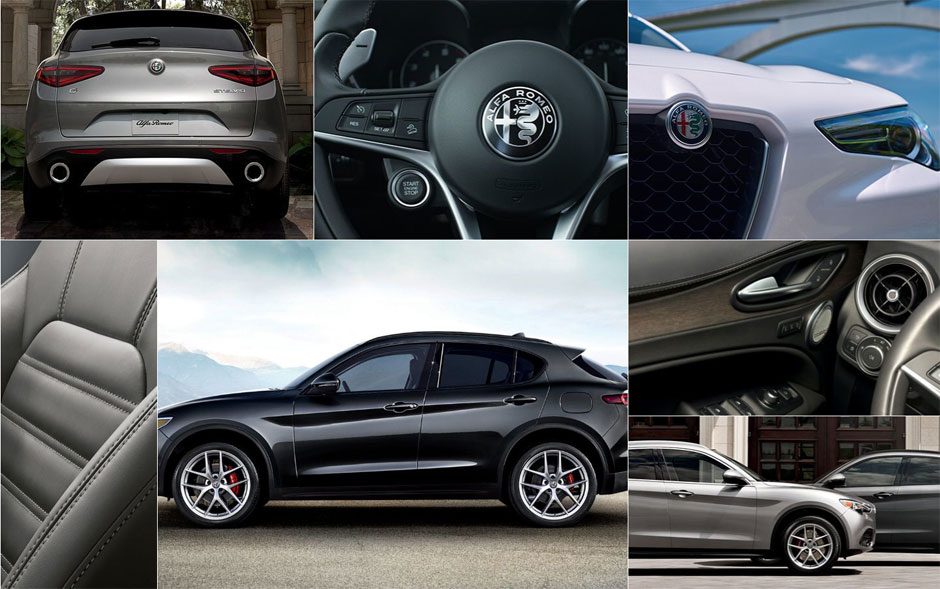 The Alfa Romeo Stelvio Ti price Canada starts at $53,845, and $56,345 for the Stelvio Ti Sport.


---
Alfa Romeo Stelvio Quadrifoglio

 
The Alfa Romeo Quadrifoglio is the living embodiment of the heart, soul, and passion represented by the storied four leaf clover logo that adorns Alfa Romeo's ultra performance models. Not only is the Stelvio Quadrifoglio incredibly luxurious, it is also an extreme performance vehicle, which can proudly boast the title of fastest SUV… In the World! Managing to lap the fearsome Nürburgring circuit in 7 minutes, 51.7 seconds, the Stelvio Quadrifoglio set a lap record for production SUVs. Powered by a 2.9 liter, all aluminum twin turbo V6, the Stelvio Quadrifoglio features the most impressive performance figures in its class. With an incredible 505 horsepower, this SUV is unlike anything else out there. The 443 lb-ft of torque provides an incredible feeling of acceleration, keeping you pinned back in your seat as you pilot the Stelvio Quadrifoglio from zero to sixty miles per hour in just 3.9 seconds, on your way to an incredible top speed of 177 miles per hour!
The Alfa Romeo Stelvio Quadrifoglio is an imposing looking vehicle. Retaining the same practical space as the Stelvio and Stelvio Ti, The Stelvio Quadrifoglio is a rare combination of beauty, practicality, and performance. Vents and cutaways in the body channel air for incredible aerodynamic performance to supplement the immense power.



The Alfa Romeo Stelvio Quadrifoglio features an integrated brake system; this system provides almost instantaneous braking response, significantly reducing braking distances. For those who push their vehicles hard more often, the available carbon ceramic Brembo brakes provide the ultimate in braking performance.
The interior of the Stelvio Quadrifoglio is obviously set up for performance; the leather and alcantara seats hug the front passengers for a secure fit, giving you more confidence in every corner, and the 8 way power driver's seat allows for a custom experience. For the ultimate in performance seating, the Stelvio Quadrifoglio can be fitted with available carbon fiber Sparco race seats.  The interior trims are made from real carbon fiber, which not only give a sporty appearance, but also save weight, a critical feature of any high performance car.
The racing pedigree is immediately apparent in the driver aids and technology of the Stelvio Quadrifoglio, the Alfa DNA Pro Drive Mode Selector provides a custom experience, with Race, Dynamic, Natural and Advanced Efficiency Modes, you're able to set the vehicle's performance level to match the driving conditions, helping you get the most out of your machine!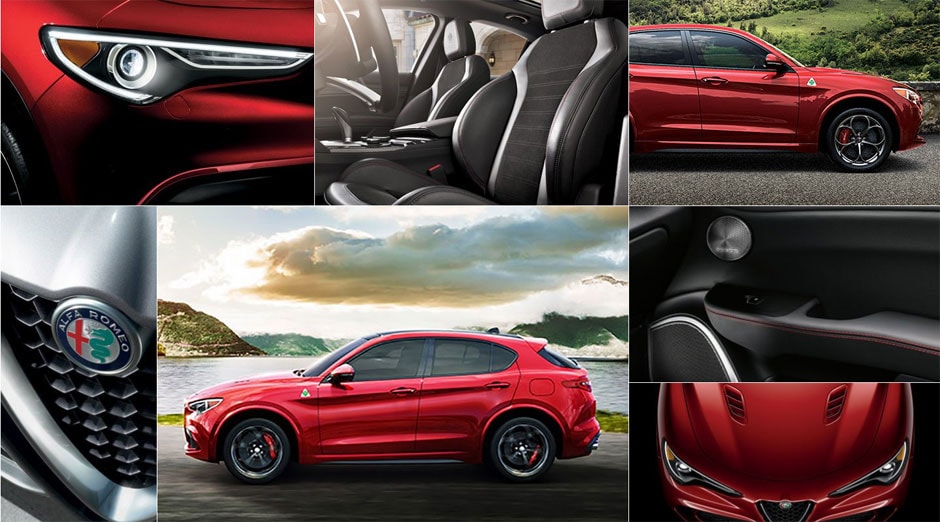 For Alfa Romeo Stelvio Quadrifoglio Canada price information contact Alfa Romeo of Windsor Canada and the team will be more than happy to assist you with your question, also if you're looking for an Alfa Romeo Stelvio Quadrifoglio lease Canada, we'd be thrilled to hear from you.
If you're looking for luxury cars Canada, Alfa Romeo of Windsor Canada are here and ready to provide you with the very best service and some of the finest luxury SUVs and cars on sale in Canada today.  Alfa Romeo dealers Ontario can ship anywhere in Canada, and are more than happy to do so! Alfa Romeo Canada are making serious inroads into the Canadian market shares previously held by the same every day brands, The Alfa Romeo Stelvio, Stelvio Ti and Stelvio Quadrifoglio are SUVs that truly stand out from the crowd for all the right reasons. Alfa Romeo of Windsor Canada are thrilled to be a part of the Alfa Romeo renaissance, so call today and set up a viewing or test drive of the SUV of your dreams, we can't wait to hear from you!