Alfa Canada and Alfa Romeo of Windsor Ontario are beyond thrilled to present to you the all new Alfa Romeo Giulia. As one of only twelve
Alfa Romeo Dealership

s across Canada, we are excited to assist you in specifying and ordering the car of your dreams. Regardless of where in Canada you live, we are able to ship your beautiful new Giulia anywhere in the country; we have already sent vehicles to locations as far away as

London, Oakville, Toronto, Montreal, Calgary, and British Columbia.

The Alfa Romeo Giulia is sheer poetry, there is no other way to say it! It is sleek, stylish, and oh so Italian. The Giulia is a mid-size sedan that held its own against competition from the German giants at BMW, Mercedes-Benz, and Audi, as well as America's luxury offerings from Cadillac, and beat them all to win the title of Motor Trend car of the year for 2018.

The Giulia is a true stand-out in its class, searches 'luxury cars for sale Canada', used to result in the same two or three options from the same two or three manufacturers, but no more! Alfa Romeo dealers Ontario have provided this introduction to the gorgeous Alfa Romeo Giulia in order to provide you with information about the three versions on offer.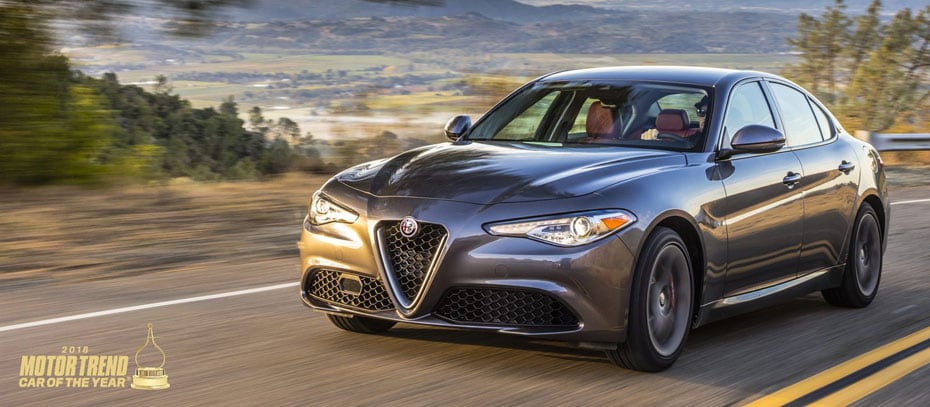 The Alfa Romeo Giulia is available as:
Alfa Romeo Giulia
Alfa Romeo Giulia Ti
Alfa Romeo Giulia Quadrifoglio


Alfa Romeo Giulia
The Alfa Romeo Giulia is available in two trims; Giulia and Giulia Sport. Both versions offer a stunning design, with incredible lines, radically different from any of the competition within the segment, yet subtle enough to remain timeless. Alfa Romeo have a lengthy history of motorsports involvement and this shows in the development of the Giulia. Weight distribution is incredibly balanced thanks to the use of high tech and ultralight materials such as carbon fiber, aluminum and high-strength composites, and the combination of the powerful, forward mounted engine and rear wheel drive offer a best in class sports sedan experience.
The advanced rear wheel drive technology is designed to enable you to drive with confidence, providing increased grip during acceleration, and improved handling in corners and at high speeds. For ultimate control, the Alfa Romeo Q4 all wheel drive system improves traction across the seasons, and augments performance by transferring as much as 60% of engine torque to the front wheels.

Giulia
The class leading figures of the Giulia models are all made possible by the incredible design and engineering of this amazing vehicle. The Giulia features a class exclusive carbon fiber driveshaft. The shaft itself is lighter than aluminum and stronger than steel, allowing a significant weight saving with no sacrifice of performance. Not only does this feature increase performance, it increases comfort; the carbon fiber used actually absorbs and dampens vibrations and other road noise usually transmitted into the cabin by inferior drive shafts.
The Giulia is fitted as standard with 17 inch 10 spoke aluminum wheels, bi-xenon headlamps, LED daytime running lamps and tail lights, plus a back up camera, complemented by rear parking sensors. The look is topped off with dual chrome exhaust tips, and aluminum window surrounds. Small touches like the shark fin radio antenna contribute to the beautiful, yet sporty aesthetic.
The interior has received as much attention during the design as the performance and exterior. Your destination will become unimportant once you've experienced the luxury that awaits inside the Alfa Romeo Giulia. With leather upholstery as standard, a seven inch thin film transistor cluster display, Alfa's DNA Drive Mode System, passive entry and remote vehicle start, you'll wonder where this car has been all of your life!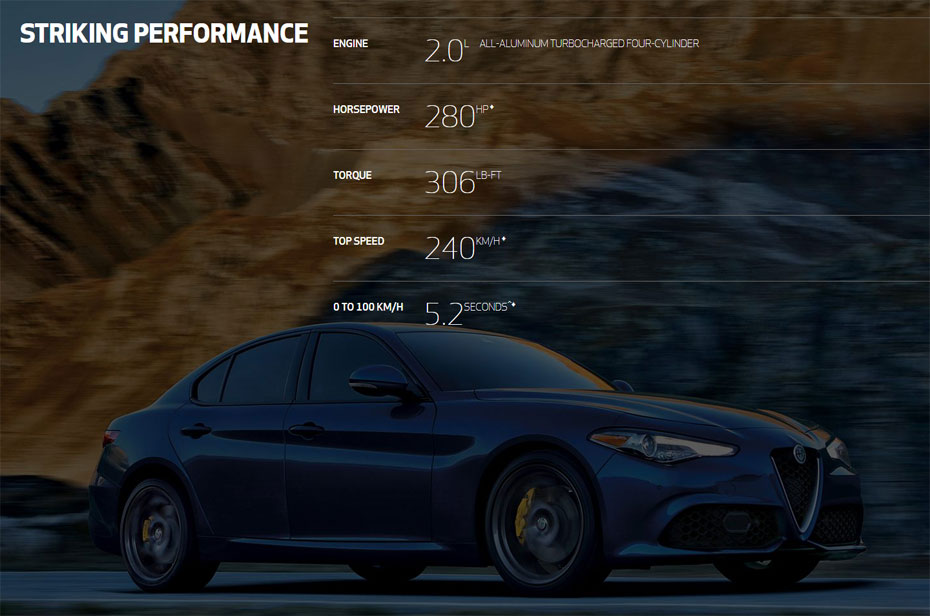 Giulia Sport
The Alfa Romeo Giulia Sport is aimed at those looking for performance focused features, whilst retaining the character of this dynamic and stylish Sports Sedan. Opting for the Giulia Sport means you'll find sport fascias both front and rear, the wheels are upped in size to 18 inches for improvements in performance and a sportier look, also for a sporty aesthetic, the Giulia Sport comes with colored brake calipers and gloss black window surrounds, for a more aggressive appeal.
The Giulia Sport also features interior modifications belying its performance ambitions, you'll find formula one style, steering column mounted, aluminum paddle shifters, in addition to the leather wrapped sport steering wheel, aluminum interior trim, footrest and pedals.
Both the Alfa Romeo Giulia and Giulia Sport utilize the same powertrain; a 2.0 liter all aluminum turbocharged four cylinder engine, featuring a class leading 280 horsepower and an incredible 306 lb-ft of torque. With a top speed of 149 miles per hour and a zero to 60 miles per hour time of 5.1 seconds, the base level Giulia and Giulia Sport are serious performers.
Interior technology is complemented by Apple CarPlay and Android Auto connectivity, allowing most smartphone users to seamlessly integrate their devices with the Alfa Romeo Giulia. Not only is this convenient, it provides a safety boost, allowing you make hands free calls, send and receive text messages, as well as listen to music and receive useful information without touching a cellphone.
The Alfa Romeo Giulia Canada Price starts at $49,345, or $50,845 for the Giulia Sport.


---
Learn More about the Alfa Romeo Giulia at www.alfaromeo.ca
---
Alfa Romeo Giulia Ti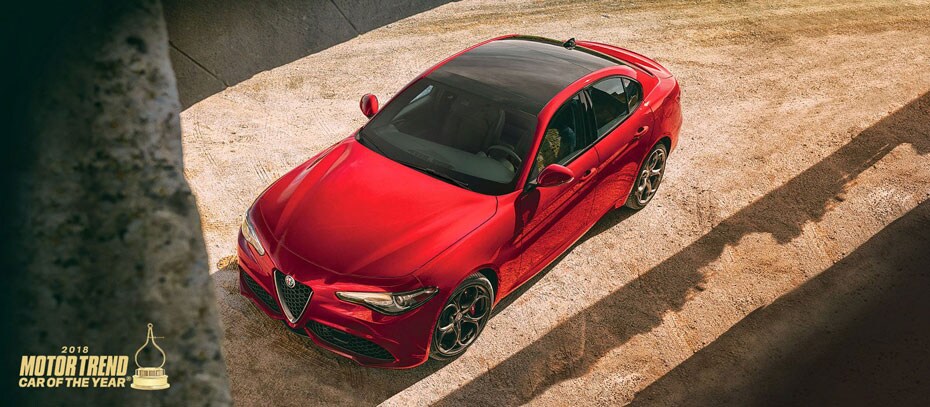 The Alfa Romeo Giulia Ti is a harmonious blend of elegance and power, blending luxury features with high performance, the Giulia Ti redefines what driving pleasure can be.
A real 'driver's car', the Alfa Romeo Giulia Ti models keep bringing the performance, even when you think there's no more to give! Your driving confidence will be at an all time high, whether you opt for the rear wheel drive, delivering incredible grip during cornering and acceleration, and especially if you choose the Q4 all wheel drive, providing amazing handling in all conditions.
The Giulia is equipped with an all aluminum suspension system known as 'Alfa Link'. This lightweight, double wishbone setup ensures that the wheels are kept perfectly perpendicular to the road at all times. The rear wheels are bolstered by the patented Alfa Link rear suspension design, making use of vertical rods to provide incredible lateral grip, comfort and performance across a wide range of road conditions.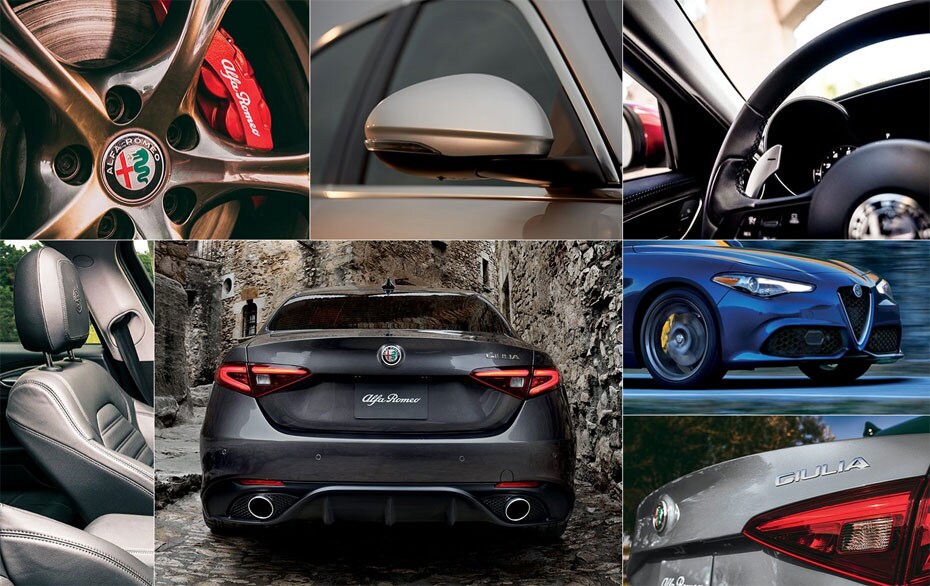 The all-aluminum Alfa Link suspension uses a double wishbone system to keep wheels perfectly perpendicular to the road even when cornering.
The Alfa Romeo Giulia Ti is the perfect introduction to this trim level. It boasts a handsome exterior appearance, and features 18 inch polished double Y-Spoke wheels to top off the look.
The Giulia Ti's range of standard equipment is sure to impress; featuring front and rear parking assist, 8.8 inch full color widescreen display, Bluetooth streaming audio, 3D Navigation GPS, and Sirius XM satellite radio (including a 1 year subscription). The Alfa Romeo Giulia Ti is fitted as standard with an intelligent electromechanical braking system that improves braking performance and decreases braking distances, while at the same time optimizing brake pedal pressure for superb feel and control.
The interior of the Ti is adorned with genuine dark grey oak wood for a subtle, yet luxurious feel to the cabin. Supple top grain leather is, of course, standard, and the supportive nature of the seats allows for spirited driving in comfort.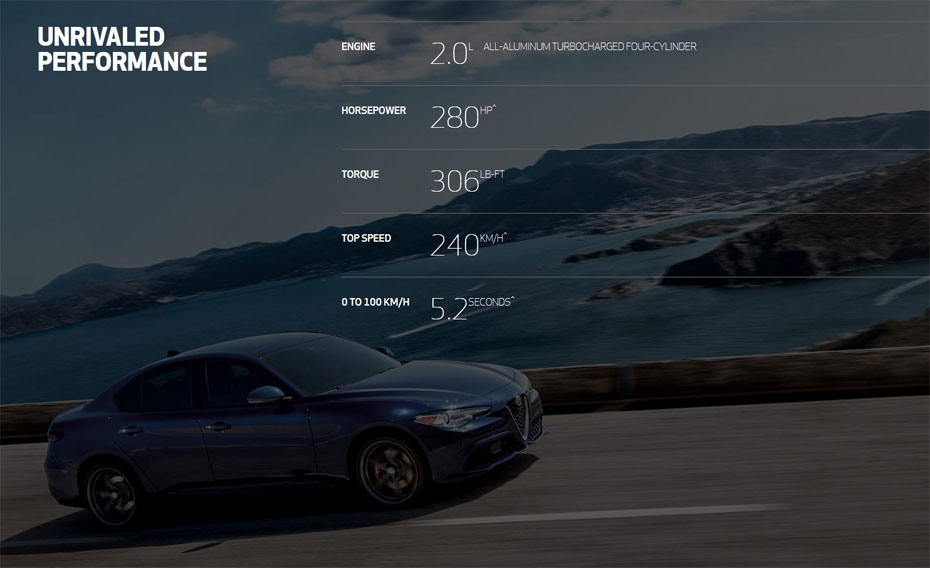 Giulia Ti Sport
The Alfa Romeo Guilia Ti Sport takes it up a notch. The distinctive 19 inch '5 hole' aluminum wheels are quintessentially Alfa Romeo, and the 225/40R19 three-season performance tires provide incredible grip for precise, confident driving. The colored brake calipers can be specified in either red, black or yellow, and give a subtle nod to the Ti Sport's motorsports pedigree, and the gloss black window surrounds and front/rear sport fascia give an aggressive appearance.
The interior of the Giulia Ti Sport is also geared more towards performance. You'll find aluminum accents on the trim, as well as the pedals and footrests. Steering column mounted paddle shifters, also in aluminum, provide responsive gear changes on demand for ultimate control.
The sports steering wheel, wrapped in leather provides a tactile interface between driver and car, for a comfortable and performance oriented experience. Topping off the sporty nature of this trim is the additional thigh support provided on the seat base, a must have for spirited cornering! The power bolsters allow for precise adjustment for a truly customized driving experience.
Giulia Ti Lusso
The Alfa Romeo Giulia Ti Lusso is the last word in luxury when it comes to sport sedans. Literally. The Lusso trim, whilst still retaining the Giulia's sporty DNA, adds an air of elegance to proceedings. The exterior appearance is less aggressive than the sport, the 18 inch 10 spoke aluminum wheels provide a more refined ride while still retaining the inherent responsiveness. You'll have a choice of genuine wood trims; dark grey oak, or light walnut both perfectly reflect the handsome nature of this beautiful car. The top quality leather doesn't stop at the luxurious Cannelloni design seats, the dashboard and steering wheel are also wrapped in fine, supple leather, enveloping you in a cocoon of style and panache! For the audiophiles, a premium Harman Kardon sound system provides incredible audio quality.
---
Learn More about the Alfa Romeo Giulia Ti at www.alfaromeo.ca
---
Alfa Romeo Giulia Quadrifoglio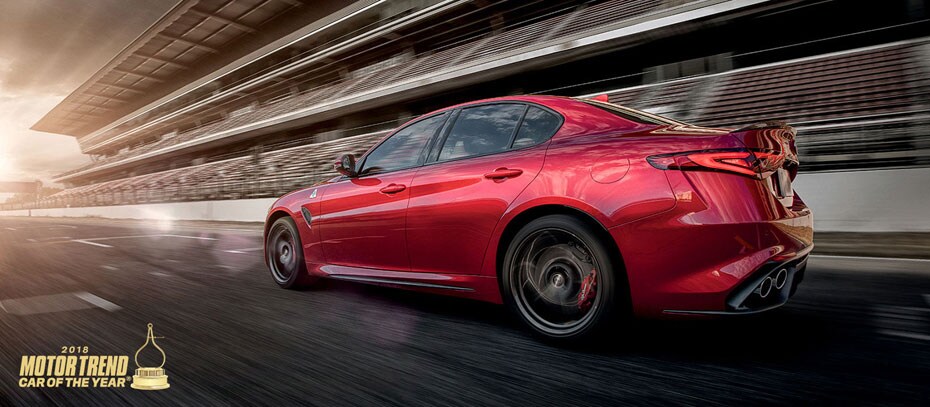 The Alfa Romeo Giulia Quadrifoglio is a masterpiece, a shrine to all things power and luxury. Equipped with its mighty 2.9 liter, all aluminum, twin turbo V6, the Giulia Quadrifoglio puts out a heart pounding 505 horsepower, making it a class leader amongst competition from Mercedes Benz and BMW. The immense torque will have you feeling like you're turning the world backwards! 443 lb-ft of torque between 2500 and 5500 rpm will keep you pinned back in your seat while you take the drive of your life! Zero to sixty miles per hour comes in just 3.9 seconds, and the top speed is an incredible 191 miles per hour, again leaving its German competitors in its wake. The record breaking Giulia Quadrifoglio set a lap record on the fearsome Nürburgring track in Germany, taking on 'the ring' in just 7 minutes and 32 seconds, making this the fastest 4 door production car to lap this demanding race track.
Whilst the Giulia Quadrifoglio maintains the beautiful silhouette of the Giulia and the Giulia Ti, it is clearly a very different animal. Immediately you'll notice the Quadrifoglio logo, a symbol of good luck used by Alfa Romeo racing teams for decades, the air channeling cutouts and vents look aggressive, but surve a purpose, assisting the aerodynamic flow of air over the car. Quad tip exhaust outlets adorn the rear of the car. The door sills are unique to the QV, and the active carbon fiber active front splitter system with two electric actuators optimize the flow of air under the car, helping with down force and aerodynamics.
The Quadrifoglio is equipped with 19 inch Tecnico wheels, which shroud the red, performance brake calipers. Torque vectoring and Alfa Active Suspension provides the link between the wheels and drivetrain, enabling you to unleash all 505 horsepower without fear.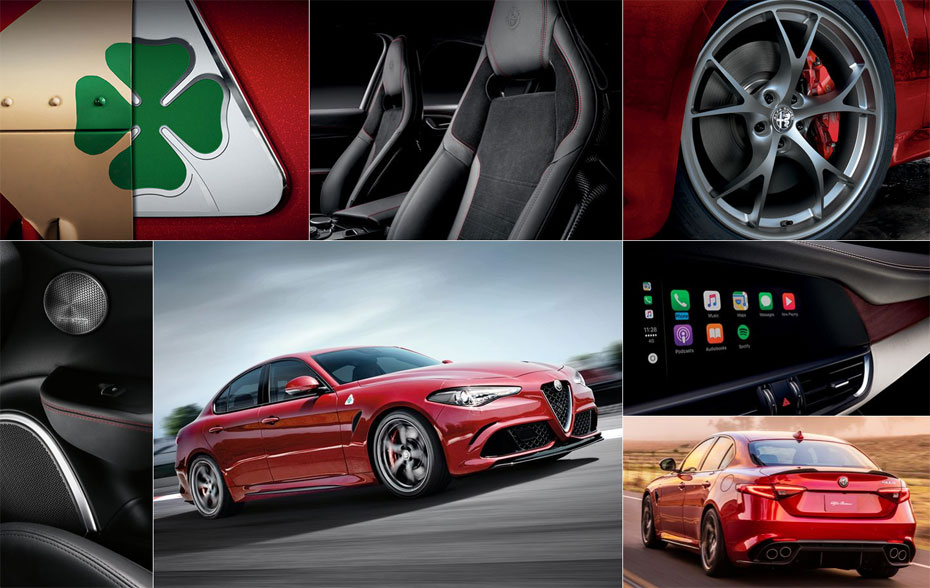 The interior screams performance; the leather and alcantara seats hug the front passengers for a secure fit, giving you more confidence in every corner, and the 8 way power driver's seat allows for a custom experience. The trims are made from real carbon fiber, which not only give a sporty appearance, but also save weight, a critical feature of any high performance car. You'll notice a difference in the speedometer; the speedo is unique to the Quadrifoglio, and necessarily so given the top speed capability!
The racing pedigree really shows in the driver aids and technology of the Giulia Quadrifoglio, the Alfa DNA Pro Drive Mode Selector provides a custom experience, with Race, Dynamic, Natural and Advanced Efficiency Modes, you're able to set the vehicle's performance level to match the driving conditions, helping you get the most out of your machine!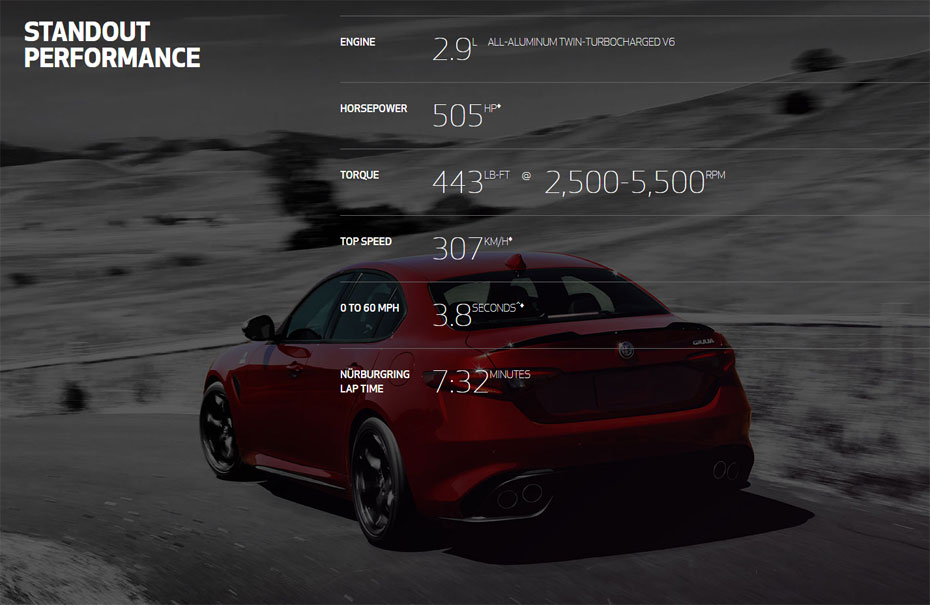 The Alfa Romeo Giulia Quadrifoglio price Canada starts at $87,440, if you're looking for luxury cars for sale in Canada, then Alfaromeo Canada should be your first destination.  Windsor Alfa Romeo dealership Ontario can ship anywhere in Canada, and are more than happy to do so! The Alfa Romeo brand is making a strong comeback with premier luxury cars such as the Alfa Romeo Giulia, Ti and Quadrifoglio, and we're truly excited to be a part of it. Call today to arrange a viewing and test drive and our knowledgeable team will set you up as soon as possible. 
---
Learn More about the Alfa Romeo Giulia Quadrifgolio at www.alfaromeo.ca
---
View our Alfa Romeo Giulia Ratings & Reviews Infographic here

Looking for Alfa Romeo for sale Canada? We can ship your Alfa Romeo Guilia across Canada! Give us a call for details!