Alfa Romeo 4C Spider for sale Ontario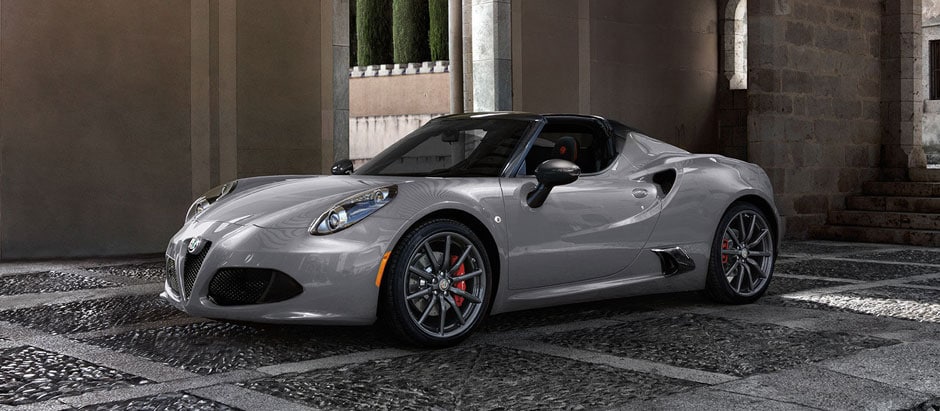 Alfa Canada
are proud to present to you the new
Alfa Romeo 4C Spider
. We're thrilled that you've considered us to help you find the new sports car of your dreams; as one of only 12
Alfa Romeo Dealerships
across the whole of Canada we understand that choosing the right dealer for you marks a big step in the process.
Alfa Canada
are more than happy to assist you, no matter where you call home; we ship cars nationwide, as
Alfa Romeo Ontario dealers
we have already sent vehicles to happy customers as far away as
London
,
Toronto
,
Quebec
,
Calgary
, and
British Columbia
. If you're looking for an
Alfa Romeo 4C Spider for sale
, we can't wait to help make that happen for you!
The 
Alfa Romeo 4C Spider
is already being heralded as one of the best looking sports cars ever made by pundits worldwide. It is a car simply beyond compare. Utilizing Alfa Romeo's decades long history of motorsports involvement (and victories!), a truly spectacular creation was born. Owning an
Alfa Romeo
is a special experience, and the 4C Spider reflects this perfectly, with its 'take on all comers' attitude, this brilliant sports car provides an emotive drive that competitors from BMW, Audi, Mercedes Benz, even Porsche and Lotus, just cannot replicate. It is this 'non so che', as the Italians would say, that makes the
Alfa Romeo 4C Spider
such a joy to own and drive.
 Alfa Romeo Canada Dealers are in effect, inviting you to join an exclusive group! The 4C Spider, put simply, is so incredibly stunning that you'll feel like a celebrity no matter where you take it; and with the roof down, you'll hear each and every compliment heading your way from the pedestrians who will inevitably stop and stare! You'll grab all of the attention, in all the right ways. When it comes to luxury and sports cars Ontario, the Alfa Romeo 4C Spider is the one you've been waiting for!


If you're looking for 'Alfa Romeo Spider for sale Canada', and want to know more, Alfa Romeo Canada Dealers have put together this detailed introduction the incredible Alfa Romeo 4C Spider, bringing you all of the most important information about this car!
Performance: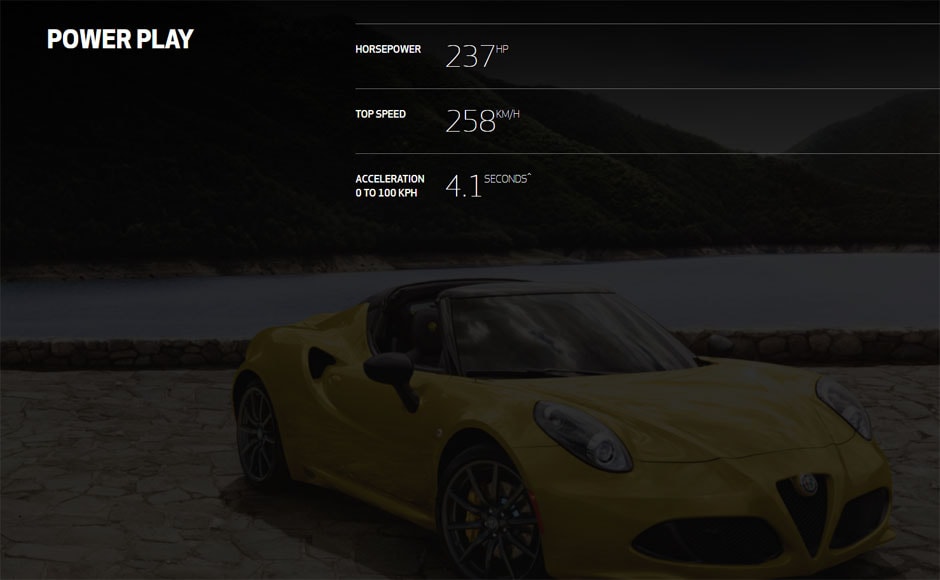 The
Alfa Romeo 4C Spider
features all the hallmarks of a true exotic Italian supercar, albeit in a scaled down package. The overall appearance blends flowing lines and aggressive edges in a harmonious way, the horsepower and torque will keep you pinned back to your seat as any great supercar would, the incredible balance and weight distribution will ensure you're able to harness the power to make the driving experience unforgettable! 
The chassis is the platform on which a car is built, and sets the foundation for the overall performance. The
Alfa Romeo 4C Spider
gets off to the best possible start in this department, utilizing monocoque technology developed and pioneered in Formula One racing, which many would agree is the ultimate racing series! A monocoque chassis is one in which the chassis and body of the car are constructed as one single unit, in general this provides superior stiffness and reduces weight comparative to traditional designs. The
Alfa Romeo 4C Spider
takes it one step further by utilizing a carbon fiber monocoque chassis, which is lighter than aluminum, and stronger than steel. This incredible engineering is the first step in making the
4C Spider
such an amazing car to drive.

Many of the world's greatest supercars, have for decades followed a simple, winning formula, and the Alfa Romeo 4C Spider continues in this manner: Light weight, rear wheel drive, mid engined. In a mid engined car, the motor is mounted behind the driver, and forward of the rear axle. The benefit of this setup is balance; the engine is the heaviest single component, and by centrally mounting it in a small, lightweight sports car, weight distribution is near-perfect, providing incredible handling and grip, brilliant steering accuracy and feel under all conditions.


Powering the
Alfa Romeo 4C Spider
is a light weight, all aluminum, turbocharged 1.7 liter, inline 4 cylinder engine. Measuring in on the dyno at 237 horsepower, the power to weight ratio is stacked in the favor of fun! For exhilarating acceleration, the
4C Spider
has 258 pounds foot of torque; you'll reach 60 miles per hour from a standing start in just a fraction over 4 seconds! The top speed is an impressive 160 miles per hour, so although the
4C Spider
is designed for the road, it will do more than hold its own on the track!

 When driving the
Alfa Romeo 4C Spider
you'll likely feel the overwhelming urge to push it hard, and who could blame you? With that thought in mind,
Alfa Romeo
designed the engine with modern turbocharging technology, and connected it to a pulse converter exhaust manifold; in short this means more torque and better throttle response without turbo lag. The turbo itself features an auto cool down system to gradually step it down after heavy use. With the roof of your
Alfa Romeo 4C Spider
down, you'll hear every glorious 'whoosh' of the turbocharged as you run through the gears, as any true car enthusiast would agree, the sounds are just as important as the sights! Speaking of sounds, the
Alfa Romeo 4C Spider
can be fitted at the factory with the available Akrapovič dual mode titanium exhaust system. The Akrapovič exhaust is a real high performance system, bringing with it an incredibly distinctive engine note. It features active technology, with exhaust valves that can be opened or closed depending on which driving mode is selected; for aggressive driving and top performance, the valves can be opened, to let the
4C Spider
really roar, and for more subdued daily driving, the valves can be closed, bringing a more civilized sound. If you opt for the Akrapovič exhaust system you'll find that the outlets are centrally mounted and bring with them additional lashings of carbon fiber for a real supercar look to back up the performance.

A fast sports car is only as good as the brakes that stop it! If you're looking to go fast, whether that's in straight lines or around corners, having the ability to stop effectively is of critical importance. Alfa Romeo have teamed up with braking experts Brembo to provide the stopping power for the Alfa Romeo 4C Spider. Brembo are the choice of performance braking technology for supercars and professional racing teams alike, and as such make a perfect partner for Alfa Romeo and the 4C Spider. The 4C Spider can attribute much its raw handling ability to this incredible system, allowing for later braking and faster cornering. Being truly Italian, there must be style to match the substance; you can order your 4C Spider with color coded calipers, in either black, yellow or red.


Whilst the engine, suspension and brakes make up a large part of the performance, modern day sports cars feature advanced software intrinsically linked to the major components, and the Alfa Romeo 4C Spider is no exception. The 4C Spider makes use of the Alfa DNA system, a driving mode selector switch that allows for the selection of any one of 4 driving modes:


Dynamic
The Dynamic mode setting puts the car in a heightened state of awareness, the throttle, engine, and brakes become more responsive, and the traction control intervenes less for more driver centric performance.


Natural
The Natural mode setting provides a relaxed, day to day driving experience. Comfort and fuel economy take priority as settings are optimized for normal road conditions and highway driving.


All Weather
The All Weather mode setting provides maximum traction control intervention, making it the best choice for those days where weather is a concern; rain, snow, slick roads, in All Weather Mode, the 4C Spider is tuned for optimum grip, engaging power management and ABS as required.


Race Mode
Alfa Race Mode is found only on the Alfa Romeo 4C models; it is in place to ensure maximum possible performance. When in Race Mode, the 4C Spider is optimized for the track, traction control and other electronic driver aids are either turned off or set to their lowest possible conditions of intervention, meaning you're experiencing the Alfa Romeo 4C Spider at its unadulterated best!


The Alfa Romeo 4C Spider transfers power to the road via the amazing dual clutch auto transmission. The equipment features a modified version of Alfa Romeo's TCT clutch, and a six speed gearbox, this all adds up to almost instantaneous shifts (as fast as 130 milliseconds), made using the column mounted paddle shifters. For those days at the strip or on the track, the Alfa Romeo 4C utilizes a launch control system to get the car off to the fastest start possible.


Exterior Design:



What good is all of this performance if the car doesn't look the part? Fortunately the Alfa Romeo 4C Spider is being spoken about by those in the know as one of the best looking cars in the world. Featuring many design cues from the 1967 Alfa Romeo Tipo 33 Stradale, which is considered by many as one of the most beautiful cars ever built. Every Alfa Romeo 4C Spider is hand assembled in Modena, Italy by master technicians who have undergone an astonishing 500 hours of training before being allowed to work on the production line. The 4C Spider earns some of its pedigree based on its birthplace; the assembly of the Alfa Romeo 4C models happens in the Maserati plant, another legendary Italian automaker. Good things come to those who wait, every 4C Spider takes approximately 6 weeks to assemble!


Carbon fiber features heavily in the design and components of the Alfa Romeo 4C Spider; you'll find available carbon fiber side vents and fascia trim add an aggressive, yet contemporary look that is also functional, due to the lighter weight and increased strength of the material. The 4C Spider features a carbon fiber halo surrounding the removable roof, as well as carbon fiber door mirrors. 


When specifying your Alfa Romeo 4C, you'll have a choice of six colors, a range of wheels; from the standard 17" front/18" rear to the 18" front/19" rear. If you're a fan of the 'Italia style' cues, you can even order your 4C with carbon fiber, Italian flag mirrors.
Interior:


As the interior is what you'll be seeing the most of, it's vitally important that it is ergonomic, comfortable, luxurious, and functional. The
Alfa Romeo 4C Spider
checks all of these boxes. Assembled using only the finest materials, the cabin quality feels sumptuous, with available leather, and an available, upgraded audio system. As with the exterior, there are lashings of carbon fiber available for the interior too! If you opt for the carbon fiber interior trim group you'll find the air vents, cluster bezel, instrument panel bezel, and shift bezel all crafted from this super strong, yet lightweight material. The motorsports pedigree shines through with the interior, the steering wheel is flat bottomed, and the large, digital driver information cluster brings all of the vital information to the driver at a glance. The design overall is uncluttered, there are no unnecessary distractions, giving you the purest possible driving experience. As well as being performance oriented, the
4C Spider
is still perfectly useable as a day to day driver, especially with the addition of available packages like Convenience Group; this package provides cruise control, parking sensors, and a security alarm.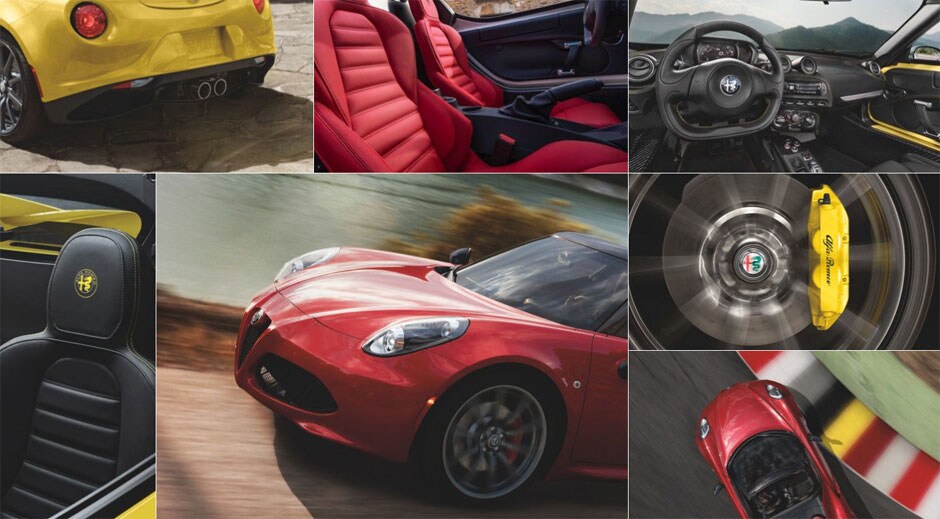 Packages:


The Alfa Romeo 4C features several available packages, with comfort, aesthetic and performance upgrades available. Track Package 1 provides upgraded performance for your Alfa Romeo 4C Spider, it features a carbon fiber rear spoiler for an enhanced look and additional weight saving. The steering wheel is wrapped in leather and microfiber for comfort and grip during spirited driving. The biggest feature of Track Package 1 is the race tuned suspension, the tuned shock absorbers are optimized for stiffness and handling under heavy load. The system adapts to changing road conditions for maximum comfort and supreme handling accuracy. Track Package 2 offers the same carbon fiber spoiler and race tuned suspension, but retains the standard steering wheel for those who prefer a full leather wheel.
The
Alfa Romeo 4C Spider
is no ordinary sports car, it is truly a scaled down supercar, with the performance and prestige to match. With all of the looks and performance taken into account, the
Alfa Romeo 4c Spider price
starts at $78,845 and as such is a phenomenal value. If you're searching for 'luxury and sports cars Ontario',
Alfa Canada
are here to help you! Once again, we are able to ship your new
4C Spider
anywhere in Canada.
Alfa Romeo Canada Dealers
are thrilled that you've chosen us to help you with getting in to your amazing Italian sports car. Call today to arrange a viewing and test drive and our friendly and knowledgeable sales team will set you up as soon as possible.
Looking to lease your Alfa Romeo 4c Spider? Contact us for our
Alfa Romeo Canada Lease
program.
If you would like more information regarding the 
Alfa Romeo 4c Spider
 please feel free to contact 
Alfa Romeo of Windsor 
or visit 
www.alfaromeo.ca
 for the most up to date 4c info.