Alfa Romeo 4C Coupe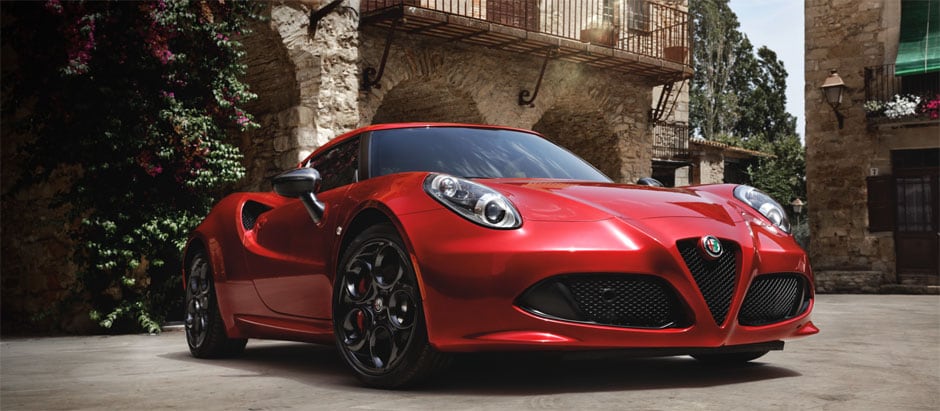 Alfa Canada are so excited to present to you the Alfa Romeo 4C Coupe. We're here to serve you as one of the twelve, exclusive Alfa Romeo dealerships in Canada, and we are humbled that you've considered us to get you behind the wheel of your brand new Alfa Romeo. No matter where in Canada you call home, we can happily assist you. We ship to all provinces, all cities, anywhere you want! Our Alfa Romeo Ontario dealership has already shipped vehicles to locations as far away as Oakville, London, Toronto, Montreal, Calgary, and British Columbia.
The Alfa Romeo 4C is a sports car unlike any other; representing a modern take on decades of Alfa Romeo motorsports heritage, the Alfa Romeo 4C excels amongst established competition from BMW, Mercedes Benz, Audi, even Porsche and Lotus! What the Alfa Romeo 4C brings to the table that its competitors can't, is emotion, the transcendent experience that comes with owning and driving a true Italian sports car, a feeling that just can't be replicated.
Alfa Romeo Dealers Canada are bringing to you an opportunity to stand out from the crowd; the Alfa Romeo 4C is a real head turner, pedestrians will stop and stare, other motorists will slow to get a better look, you'll feel pride in owning this incredible vehicle. Of all the luxury and sports cars Ontario has to offer, the Alfa Romeo 4C is the newest big hitter.
Alfa Romeo Dealers Canada have put together this introduction to the Alfa Romeo 4C Coupe to bring you up to speed with all of the facts and figures about this beautiful sports car.
Performance: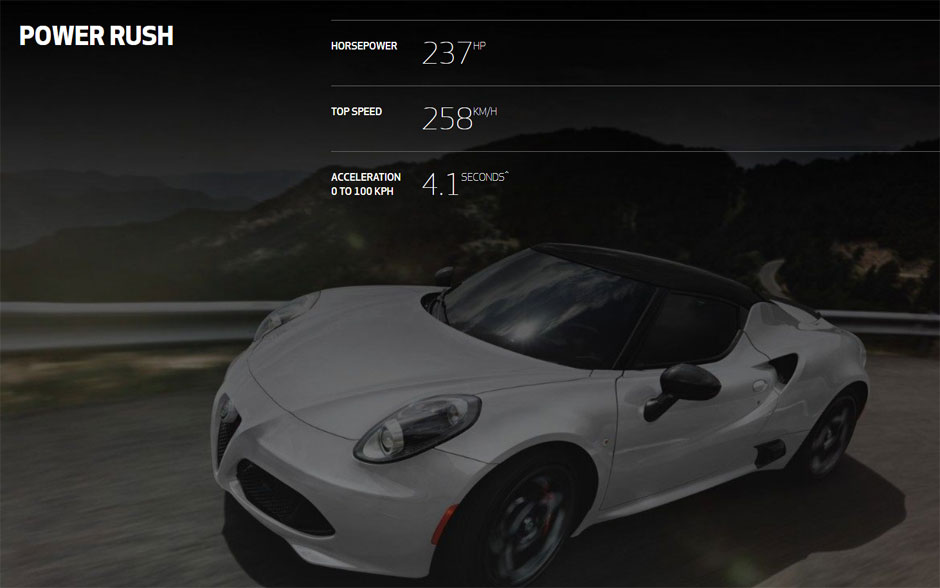 The Alfa Romeo 4C is not just a pretty face! The 4C offers incredible performance to back up the sleek design. As any true motorsports enthusiast knows, high performance vehicles are so much more than just a powerful engine; to truly excel as a sports car, there should be optimal balance, low weight, powerful engine, lots of torque, and an efficient transmission. Of course the Alfa Romeo 4C offers all of those traits!
The 4C is built upon a single carbon fiber monocoque chassis, a design pioneered in Formula One racing. In essence, a monocoque chassis is one which integrates both the chassis and the body in one single construction. This both reduces weight, and improves stiffness. Weight and strength are further improved in the case of the Alfa Romeo 4C in that its monocoque is built from carbon fiber, which is incredibly lightweight and stronger than most steel or aluminum counterparts.
Following the winning formula of the greatest supercars, the 4C is mid-engined. Put simply this means that the motor is mounted behind the driver, but forward of the rear axle. This setup is near perfect for a lightweight sports car in that it offers incredible weight distribution, balance and therefore a fantastic driving experience, with incredible cornering control, and almost endless grip under heavy acceleration.



At the heart of the Alfa Romeo 4C is the 1750cc, turbocharged, inline 4 cylinder engine. With 237 horsepower at your disposal, and 258 lb-ft of torque, you'll propel from 0-60 miles per hour in just 4.1 seconds, on your way to a top speed of 160 miles per hour. Simply phenomenal.
The 4C utilizes modern turbocharging technology to squeeze every last ounce of power from the 1.75 liter engine, the turbo itself is connected to a pulse converter exhaust manifold for increased torque and throttle response. To keep the turbocharger safe from damage, especially after intense use, the system features an integrated auto cool down mechanism.
The Alfa Romeo 4C can be ordered with an Akrapovič dual mode titanium exhaust system. This high performance upgrade brings an entirely different exhaust note to the 4C, a sound that is distinctly Akrapovič! The dual mode system itself features active exhaust valves, with the ability to open and close depending on which mode is selected, providing either an aggressive, sporty sound when you feel like spirited driving, or more subdued for day to day use. Not only is a more aggressive engine sound achieved, the Akrapovič exhaust is comprised of center mounted, twin pipes, surrounded by carbon fiber for a race inspired look.



 Any true performance vehicle must be as capable of stopping effectively as they are at accelerating. Braking ability is liked directly to faster lap times for anyone inclined to take their car to the track. Stopping power in the Alfa Romeo 4C is courtesy of Brembo, the last word in braking technology; utilized by some of the world's finest supercars, Brembo's disc brake systems ensure the ultimate in performance, allowing high performance vehicles to brake later and corner faster, a must have feature for any true sports car. For a custom touch, you can specify the color of your brake calipers, with black, red or yellow to choose from, Alfa Romeo have considered even the most minute details when it comes to the design of this incredible machine.
Modern performance cars rely heavily on software for driving dynamics, and the 4C is no different. The Alfa Romeo DNA system is a drive mode selector that allows the driver to select from one of four different modes:
Dynamic
Dynamic mode brings with it direct, responsive control, the engine and brakes become altogether more responsive, and the traction control behaves in a more subtle way for increased driver involvement.
Natural
Natural mode is the go to setting for relaxed, daily driving. Natural mode prioritizes comfort and fuel economy, with its settings optimized for neutral surfaces and highway driving.
All Weather
In the event of poor conditions; rain, snow, slick roads etc. then All Weather mode is the best option. The All Weather setting ensures that the traction control is optimized for maximum grip, providing power management and ABS braking as required.
Race Mode
Alfa Race mode is exclusive to the 4C models and is designed to enable you to unleash the car at its purest. Race mode puts the Alfa Romeo 4C in optimum track settings, electronic driver aids are turned down and even turned off in some cases. Without the intervention of software, you are free to pilot the 4C to the ragged edge!
The Alfa Romeo 4C is fitted with an incredible six speed, dual clutch, auto transmission. The clutch itself is a modified version of the Alfa TCT clutch, featuring software enabling lightning fast gear changes across all driving conditions, with shifts happening in as little as 130 milliseconds. For the fastest possible starts, the 4C features a Launch Control setting, designed to actively manage the clutch, shifts, grip and power for dominant performance.
Exterior Design:



The Alfa Romeo 4C is a phenomenal performer, this performance is synergetic with the painfully good looking exterior. With strong influence from Alfa Romeos of old, most notably the 1967 Alfa Romeo Tipo 33 Stradale, often regarded as one of the most beautiful cars ever made. Each and every Alfa Romeo 4C is assembled by hand in Modena, Italy, in the workshop of another Italian legend, Maserati. Taking no less than 6 weeks to build, the 4C is proof that there is no cause to rush a masterpiece.
Individual design elements join together to form a whole greater than the sum of its parts. Available carbon fiber side vents enhance the look of the fascia, providing a sporty look that gives a subtle nod to the racing pedigree of Alfa Romeo. The available carbon fiber roof not only looks great, it contributes to significant weight reduction whilst retaining stiffness and strength, and the carbon fiber side mirrors bring with them a sleek, yet aggressive look, perfect for a sports car of this nature.
When specifying your Alfa Romeo 4C, you'll have a choice of six colors, a range of wheels; from the standard 17" front/18" rear to the 18" front/19" rear. If you're a fan of the 'Italia style' cues, you can even order your 4C with carbon fiber, Italian flag mirrors.
Interior: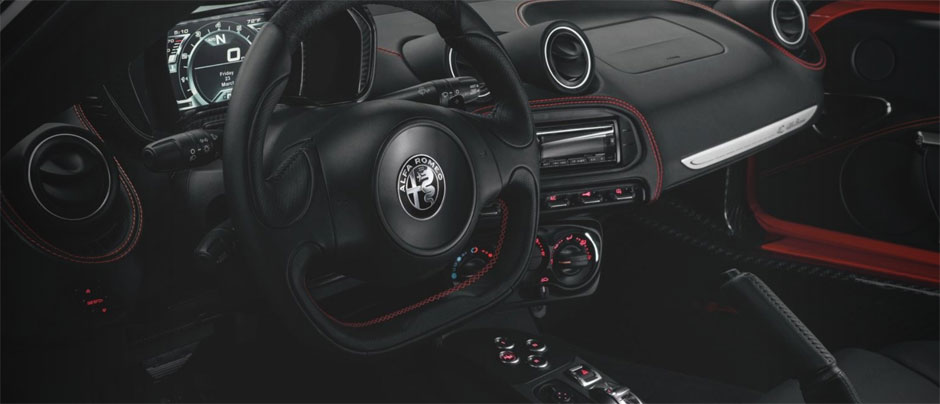 The interior of the Alfa Romeo 4C is as vital to the overall driving experience as any other component. Every 4C is hand crafted by experienced technicians with no less than 500 hours of training under their belts; they use only the finest materials, for a high quality and luxurious feel. The cockpit itself sits within the monocoque tub, it truly immerses the driver, providing an unforgettable connection with the car. Every single component has been thought out, everything belongs. With the essence of a true sports car in mind, there are zero distractions, nothing to interrupt the experience of being behind the wheel of this future legend. Carbon fiber trim adorns the dash board for a sporty look, the flat bottom sports steering wheel provides a comfortable and practical interface with the car, and the large, digital driver information cluster brings all of the vital information to the driver at a glance.
Upholstery can be ordered in a variety of finishes, black cloth is standard, however when ordering a new Alfa Romeo 4C it can be specified with racing microfiber and leather, pure black leather, red leather, or luxurious tobacco leather. For those who consider premium audio a must, an available Alpine premium system with subwoofer can be fitted for incredibly rich, full sound.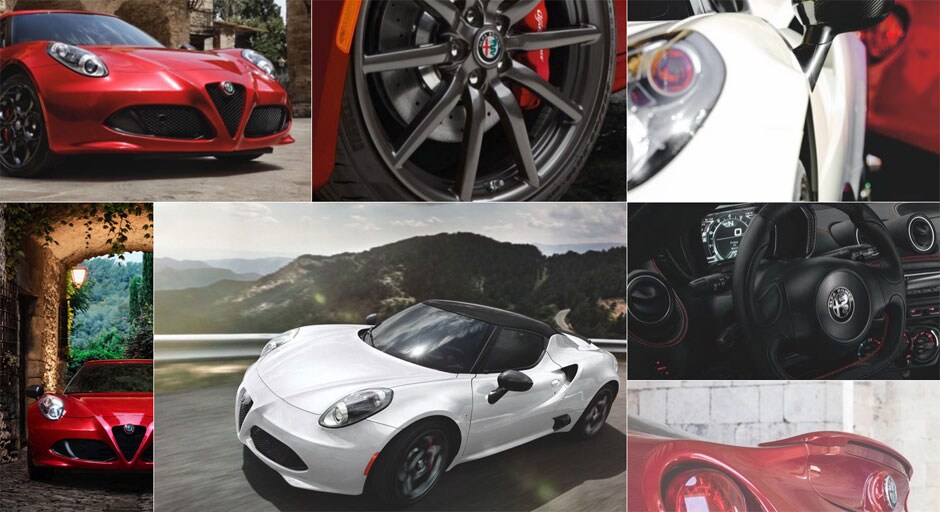 Packages:
The Alfa Romeo 4C features several available packages, with comfort, aesthetic and performance upgrades available:
Coupe Track Package 1
Track Package 1 provides upgraded performance for your Alfa Romeo 4C, it features a carbon fiber rear spoiler for an enhanced look and additional weight saving. The steering wheel is wrapped in leather and microfiber for comfort and grip during spirited driving. The biggest feature of Track Package 1 is the race tuned suspension, the tuned shock absorbers are optimized for stiffness and handling under heavy load. The system adapts to changing road conditions for maximum comfort and supreme handling accuracy.
Coupe Track Package 2
Track Package 2 offers the same carbon fiber spoiler and race tuned suspension, but retains the standard steering wheel for those who prefer a full leather wheel.
Coupe Convenience Group
Despite the aggressive, sporty look of the Alfa Romeo 4C, it is perfectly functional as a day to day driver. Even more so with the Convenience Group; this package provides cruise control, parking sensors, and a security alarm.
Carbon Fiber Interior Trim Group
This package perfectly suits those who love the race inspired look of carbon fiber. With the air vents, cluster bezel, instrument panel bezel, and shift bezel all crafted from this lightweight, yet strong material, the Carbon Fiber Interior Trim Group adds a significant aesthetic upgrade.
This car has often been referred to as a scaled down supercar, you'll certainly look and feel like you're driving one of those storied vehicles, and as such the 4C represents absolutely incredible value. The Alfa Romeo 4C price Canada starts at $66,845, if you're searching the internet for 'luxury and sports cars Ontario', then Alfa Romeo Canada are here to help.  Alfa Romeo dealers Ontario can ship anywhere in Canada, and are absolutely the right people to do so! After a long absence, Alfa Romeo are making a comeback in a big way in the Canadian luxury car market with incredible sports cars like the Alfa Romeo 4C, and Alfa Romeo Dealers Canada are thrilled to be a part of it. Call today to arrange a viewing and test drive and our friendly and knowledgeable sales team will set you up as soon as possible.

If you would like more infomation regarding the Alfa Romeo 4c Coupe please feel free to contact Alfa Romeo of Windsor or visit www.alfaromeo.ca for the most up to date 4c info